BPMN 2.0
The Business Process Modeling and Notation Standard 2.0 defines a set of common rules to create workflows for business processes. Widely used by business process specialists to share information with their peers, clients and IT professionals, BPMN is a visual language that helps you automate processes, collect data and communicate effectively with customers and colleagues.
Easily model your workflows
Cardanit implements BPMN in a user-friendly way that helps you effectively map and manage business processes. Draw your diagrams with an easy drag-and-drop functionality, use the modeling ring suggesting which elements can follow, or power up you modeling with the help of our magic wand. BPMN has never been this easy.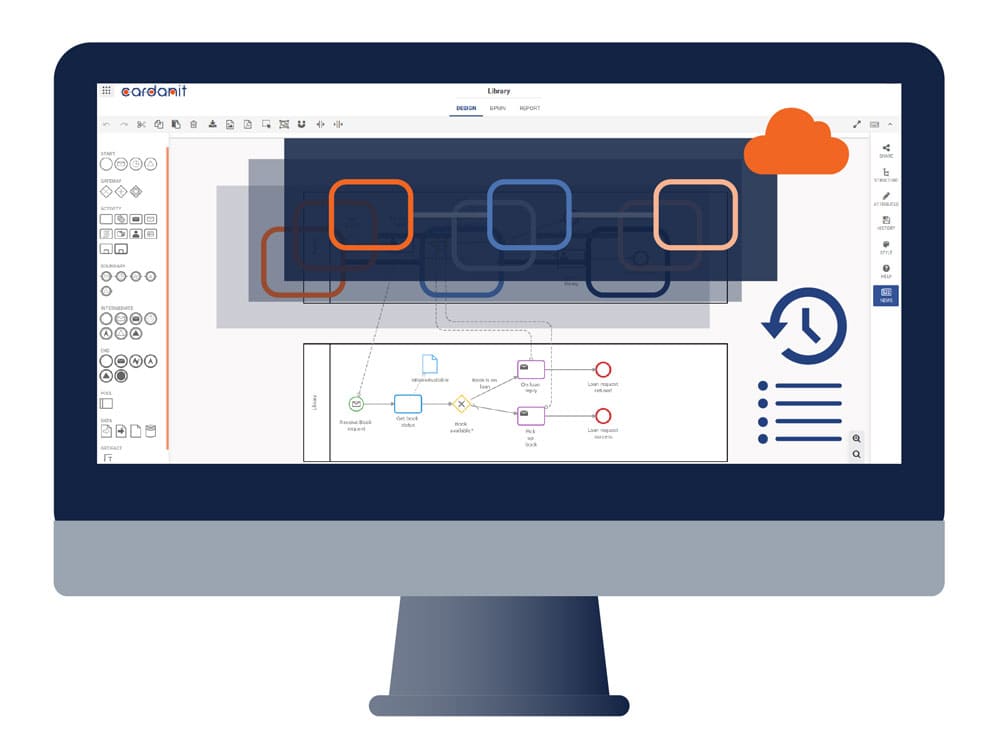 More than an editor
Hosted in the cloud, Cardanit is a BPMN software as a service and needs no installation. Access your projects from anywhere and seamlessly collaborate with your colleagues and clients by sharing and commenting on your workflows on the go. Moreover, with Version history you can maintain multiple variants of the processes or revert to previous designs. Thanks to customization features, you can give a different look and feel to your workflows and highlight the most important tasks, personalize your text fields and align the elements.
Start your free trial now
XML file to transcribe your diagrams
An XML transcription included in the BPMN 2.0 standard empowers you to execute and automate even the most complex modeled business processes, including scientific workflows and engineering scenarios. The XML transcription allows for a platform-independent exchange of BPMN 2.0 diagrams, so you can export your diagrams and import them into compatible workflows and BPMS (Business Process Management Software) tools to be automated.
Automatic process manual for your clients
To make your work more readable and easier to share, we added a third view of your model: the process user manual. When creating the model and filling out the 'description' fields you can get the documentation report of your workflow ready for download and for handing it to your clients. That's another way to easily present your work and to clearly explain it even to people who are not familiar with BPMN.
Easy-to-use
User-friendly interface.
To be efficient
Cloud
Your workflow in the cloud.
To be accessible
BPMN 2.0
Diagram following the standards.
To be interchangeable
Customization
Personalize your elements.
To be in control
Version history
Follow each step of your creation.
To be carefree
Documentation
Process manual at a click.
To be aligned