Subprocess
A Subprocess Task represents a self-contained, composite activity that can be broken down into smaller units of work. It's embedded in the process. It's a graphical object within a process that contains a process.
By breaking down large models into smaller ones, Subprocesses make processes easier to understand and maintain. In processes with complex hierarchies, you can nest Subprocesses in multiple levels to break down a process model hierarchically.
A Subprocess Task appears as a rectangle with rounded corners and a black edge.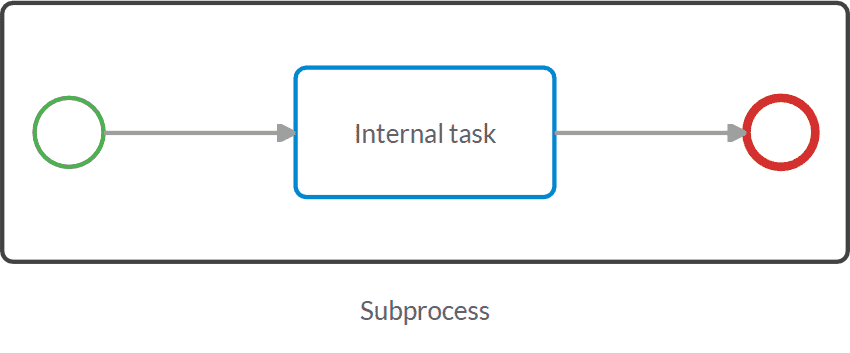 Subprocess attributes
Define this Process Definition in the Data Object tab:
Data Object

Define the Data Object referenced by the Data Object Reference.

You find Data Object IDs in the Data Object tab.

To add a Data Object Reference, click Add.

To remove a Data Object Reference, select the Data Object Reference from the list then click Remove.

To complete or edit a Data Object Reference, select the Data Object Reference from the list and fill in these fields:

Fill in these fields:

| Field | Description |
| --- | --- |
| Name | The name of the Data Object Reference. |
| Description | A description of the Data Object Reference. |
| Item Definition | The data type of the Data Object Reference. |
| Default value | The default value of the Data Object Reference. |